Can Religion And Science Co-Exist In The Long Descent?
Posted on:

26 January 2022

By:

David Trammel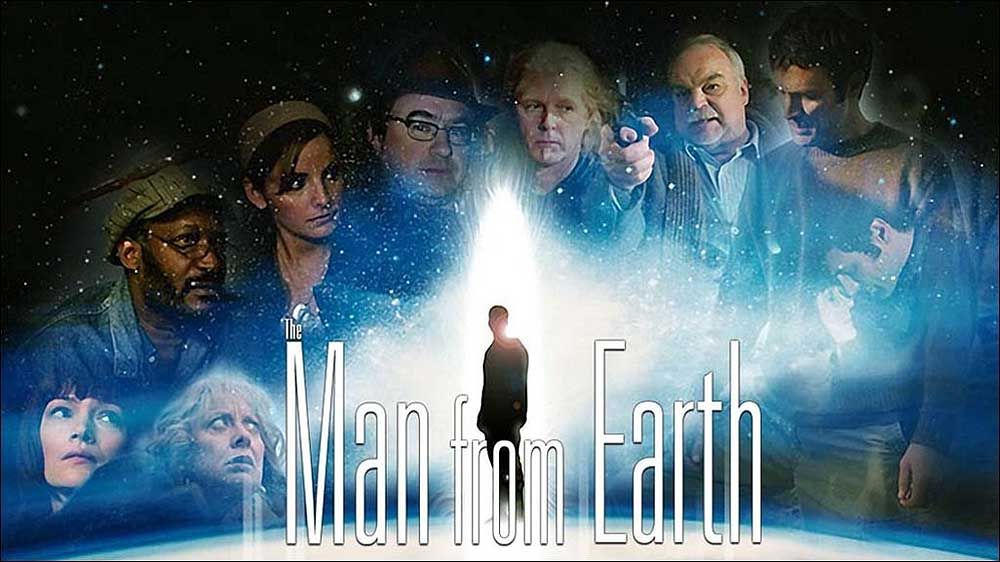 Can Faith in the Unknowing, co-exist with the Scientific Method?
I ask this because I just rewatched one of my favorite movies recently. The 2007 indi classic "The Man From Earth" is without a doubt one of the best movies to me, which has been ever made. Time to revisit the 14 thousand year old man.
If marooned on the proverbial island, and offered limited entertainment, this movie would join the most amazing 1990 three person cerebral treat "Mindwalk" and what I consider one of the two best Robin William's films "Bicentennial Man". (I slightly favor it over the other top two film of his, that is the 1998 heart tugger "What Dreams May Come"). I would probably add the three part Sci-Fi Channel mini-series "Dune", then me, the seagulls and the beach crabs would be set.
(As long as we had unlimited beer, lol.)
Funny. that I did not connect the obvious, all of three of these films and the mini-series in some way deal with the intersection of spirituality and science.
For those who have not seen "The Man From Earth", it is set in the modern day. The main character is a Professor John Oldman, played by David Lee Smith. Professor Olman has unexpectedly announced he was leaving the College he teaches at. Several of his fellow professors (and a co-ed involved with one fellow professor and John's teaching assistant who John is having an affair with) surprise Oldman with a impromptu going away party.
During the discussions John confides to them he is actually almost 14 thousand years old, an immortal first born in pre-historic times, who has traveled across the World. And every ten years or so, he "Moves On", abandoning his current Life (when people around him notice he does not age) to seek a new Life somewhere else. Oldman decides to be honest and tell these few friends his real story, to as he admits "Say goodbye as his true self." He is meet at first with disbelief and then anger. Yet as his fellow scholars, can not disprove his story, they come to accept if not a belief his story is real, but a openness to the possibility of it being true. The ending is both profound and leaves you with a smile.
At a time when we as a race and as a civilization face huge, perhaps unsurmountable challenges it seems that we also face a collision of the belief in truthfulness of and the recognition of the authority of, the two big sources of each. Science and Religion both are at a cross roads.
The Fall of Science
If you haven't been hiding in a cave for the last few years, you'll probably have noticed, Science isn't doing that well right now.
The veneer of respectability and authority that Science claims has suffered major cracks, many self inflicted. The whore's bargain that scientists and researchers in the college systems have made with Industry for grant money and funding has become more and more obvious to the General Public. The perception that a business can literally "buy" the result they want, in order to promote and market a product is common now. And worse than just paying for a favorable review, the perception verified by past examples of researchers painting rosy pictures on products which are later revealed to be dangerous or even deadly BUT are hugely profitable has directly lead to distrust that people had for the Covid vaccines. People didn't wake up one morning and in mass say "I don't believe you". Their distrust is the product of decades of violating the trust that was won with centuries of learning.
Unfortunately, this has come at the worst of times. Decreasing resources and rising problems are going to make learning the facts and deciding what course to take even more important. Science, like some lapsed alcoholic, has fallen off the wagon.
Add to that the higher and higher cost of a college degree, and the requirement of higher and higher levels of accreditation and government licensing to work in well paying fields is only fueling the perception that Science is not about truth but about deciding who gets to do well and who doesn't. The American Dream that hard work will bring success has been unmasked and made clear to be out of reach for too many.
"Will public trust in science survive the pandemic? - The confluence of rapidly evolving science, mixed messaging, misinformation, and flagrant politicization in the US is creating a perfect storm for eroding trust in science"
And The Fall of Religion
Like Science, the institutions of Larger Religion aren't doing that well today.
Facing it's own crisis of authority, the World's major organized religions have with increasing regularity, left the boundaries they accepted in the last two hundred years. While an uneasy truce of sorts has existed between Religion and Science, where each have stuck to their side of the coin, now you see Religion taking on the mantle of "Arbiter of Real Truth" that Science thought was theirs. The one Truth has become a matter of faith, and Religion claims exclusive rights to that.
Unfortunately, just as Science has sold itself for money, too often Religion has sold itself for the other coin, that of Power. Figures of leadership that we have trusted, are being exposed as hucksters and charlatans, who preach piety and a humble nature, yet live in million dollar mansions and fly on private luxury jets. That really isn't that hard to understand. After all for most of its life, Religion has been all about Power. Science serves the mistress of business, and Religion serves the master of governance.
In America especially, the marriage of White Evangelicals and Populist Politicians seeing themselves representing a smaller and smaller minority, one that is losing its privledged status on the top of the economic ladder,
For the last hundred years, the 95% of the population NOT in the elites of both business and of governance have had the circus of distractions. Especially in the West and in the capital of the Empire, the United States. The Proletariat of the Modern Age has looked the other way while the Elites plunder their way to riches, and now that resources are growing scarce even in the halls of power, we are waking up. To keep their privledged place at the pig trough of riches, one or the other, Science or Religion will need to be on top.
Just like so many leaving Science, the younger generation is leaving their parent's organized Churches.
"It's Not Just Young White Liberals Who Are Leaving Religion"
Fighting For The Scraps While The Media Cheers
We are at a turning point in our History.
I see little chance of the people who could make the hard decisions to prevent or even moderate the problems we are going to face over the next century. Making the decision on a path, when too many opposing forces benefit from the status quo and of not doing anything, means for a decision maker that you lose no matter what. Faced with that, I think we will see more fights over access to what little remains. Rather than share in the burden equally, it will be a tooth and nail fight to get the most for your minority, no matter how badly it affects others.
This would be bad enough but there is a third force in the mix that stands ready with its violin to play while we all burn. The Information Industry, aka Media has seen the collapse of traditional sources but the explosion of for profit companies, like Facebook, which make money off of each and every one of us. Money made even more, when they use their science not to benefit the people but to enrich themselves. This focus of profit before good, is going to be the five gallons of gasoline to the coming fire of primacy between Science and Religion. They stand to make things much worse than they could be.
"Facebook profits off hate and that's why it won't change, says whistleblower Frances Haugen
The Wild Card - Spiritual But Not Religious
I see the coming fight from an interesting sideline. I am "pagan". That is I follow a spiritual path of trying to find enlightenment that is less about organized dogma and more about personal discovery. And more and more people are taking the same path.
The term "pagan" covers a wide variety of beliefs and practices though, so the possibility of it fighting it out with the more main stream organized religions is slim. Or of unseating Science either. Paganism does present something of a third side of the equation. A moderator not a combatant.
Unfortunately, we are nether organized nor motivated. Can we make a difference?
"Could neo-paganism be the new 'religion' of America?"
Three Sides Of A Coin
Greer once wrote that Science and Religion were two sides of a coin, and Magic (aka Spirituality) was the material between the two. You can't have a one sided coin.
Personally, I think we are in for some trying times. In the coming decades, powerful forces will fight. Each of us can only keep our heads down and make sure we are prepared. Like a dark Midwestern thunderstorm on the horizon, you tie down the loose objects, bring in the kids and the livestock and light a fire to gather round.
See you on the other side.
---
What are your thoughts? Can the World of the Long Descent see peaceful coexistence between Science and Religion?