Cheap Way To Fill Raised Beds
Submitted by

David Trammel

on Sun, 07/25/2021 - 20:38
There are many challenges to gardening in a urban area, but there are also advantages. One of them is that people conveniently bag up the organic waste you need to compost or to make a raised bed. For the last few months on Tuesday I drive around and grab a few bags of filler. I have a lot of raised beds going in, and if I had to buy dirt, I'd be out big bucks.
Here's a way to save money AND to give your Future plants a bountiful place to grow. Hügelkultur enthusiasts will recognize the method.
---
Picture #1: I'm using metal raised beds on top of concrete blocks, which are inset into the ground. In this case I'm doing two 2x8' and one 3x8' bed, set against a vinyl privacy fence of my neighbor's. The beds are being set up in a U shape, in the corner of the yard.
The 2x8' ones are small but I didn't want to have to reach across them to weed, since the other side is inaccessible. Because of this and because I had to use full size 8" concrete blocks against the vinyl fence side, the interior area is smaller than normal. All the other beds use a half block (4x8x16") for the support. You can see the blocks in this picture. Because the back side of the brick is beyond the wall of the raised bed, I decided to cover them with a piece of 1/2" hardware cloth as well as also cover the bottom with a similar piece to protect from pests.
First step is to cut up limbs and sticks, then fill the lower third of the bed. I didn't go above about 2" thick, given the smaller size but in a bigger bed you could put larger ones.
Picture #2: Once you have the amount you want, add either some fill dirt or some compost. My side neighbor bought a truck load of compost, too much for what he needed, so he said I could use some too.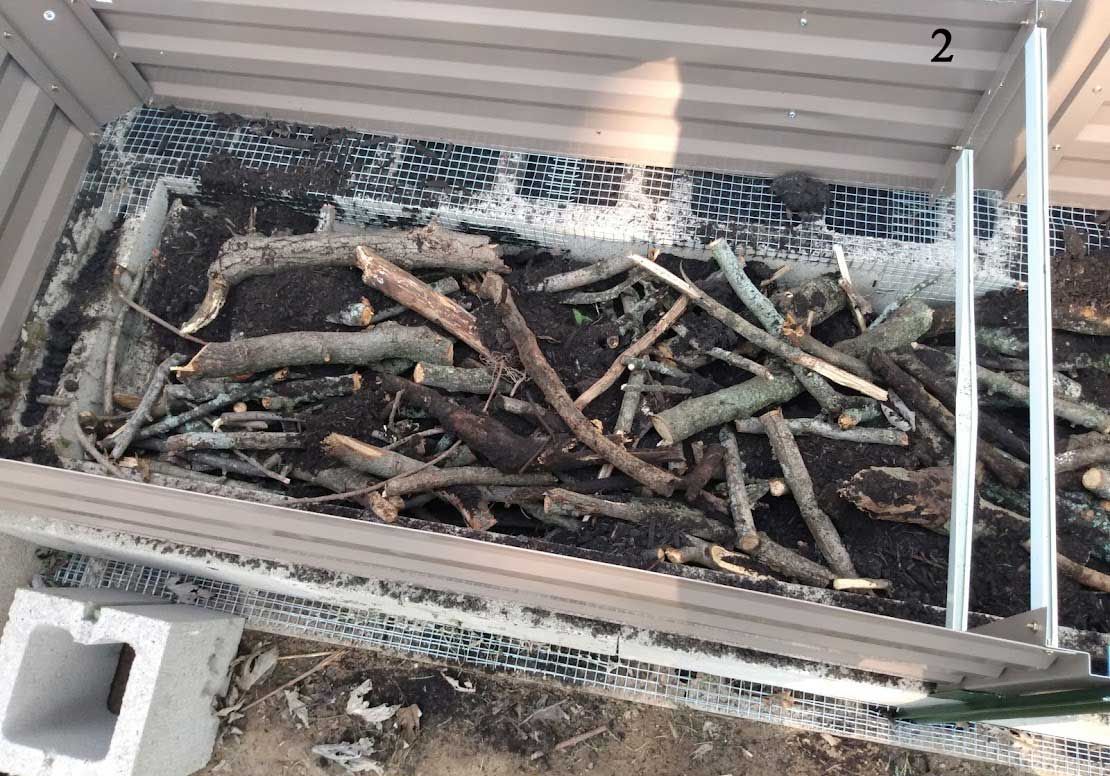 You don't really need to do that, the organic leaves and stuff you are going to add on top will settle as it degrades, but adding it gives the earthworms a pathway to move around the bed.
Picture #3: Now you just add leaves. I filled this all the way to the top.
In a few other beds I also added a thin layer of grass clippings. I get them from the neighbor across the street since he warns me if he is going to use any herbicide. He hasn't this year, so I'm sure the grass is safe. Unfortunately we had a big storm a week back, and he hasn't mowed. I did get all this from the neighbor with the compost, from a tree that came down in his back yard.
Unknown herbicide in your straw mulch can really hurt your plants and force you to dig out your beds completely. The secret with grass clippings is to layer them in on the top, do it in a thin layer, and importantly, let them sit for a day or two to brown up some and lose moisture first.
Picture #4: I tossed a wheel barrel's worth of compost on top of the leaves to compress them down, then gave the bed a good watering.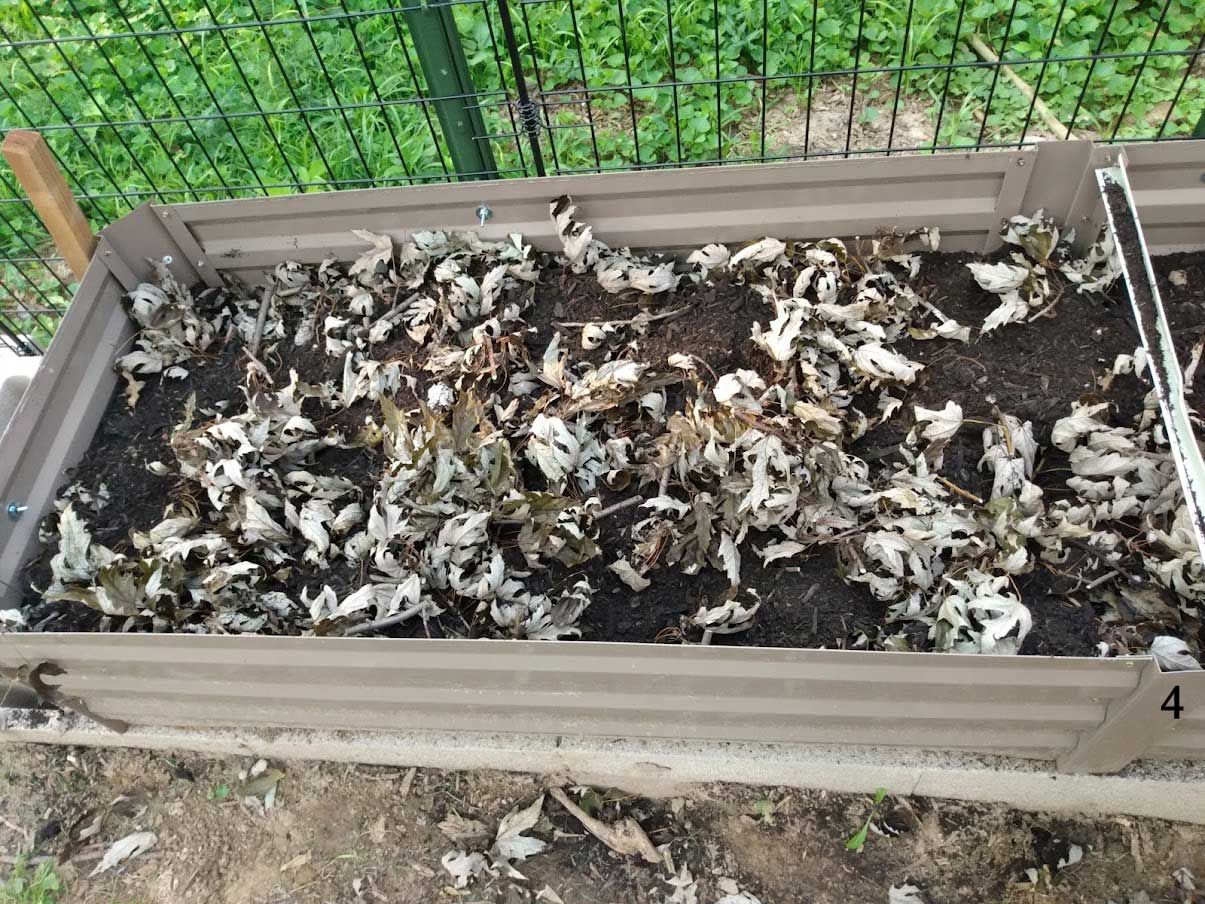 Picture #5: I have several other beds which are further along the composting down path. This one here gives you an idea of what you get after a few months, though I should have watered it before I took the picture. It's a deep black when its moist.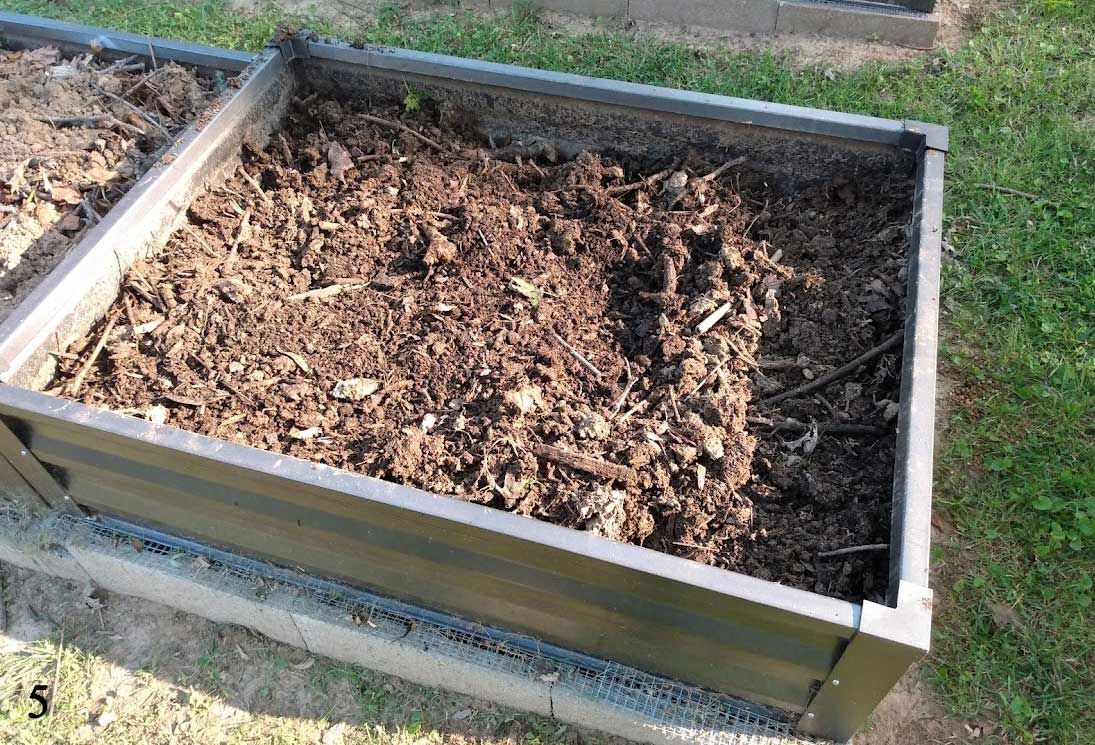 As it was decomposing, I would give it a forking over and some water once a week. I was getting some huge worms in the mix. I turned four beds over today, and removed a dozen worms from each, seeding them into the new beds.
Final thoughts: This is fairly easy to do, though you have to be in it for the long haul and be consistent about turning the beds. You are in effect, creating miniature compost piles. But the ingredients are free and will give you a great start.
How does this help? First, decomposing organic material is a great nutritional source for plants. All those minerals and carbon gets broken down by microbes and earthworms, and the roots suck it right up. It also helps keep the soil moist. As wood decomposes, small empty spaced develop. When it rains or you water the bed, moisture is absorbed and stored in the wood, then is slowly released.
I'm going to continue to build and fill the beds I've got planned thru the Fall. I may plant some Winter bulbs and seeds but the majority of the new plants will go in the ground in the early Spring.