The What, How And When Of Eating Better
Posted on:

20 January 2022

By:

David Trammel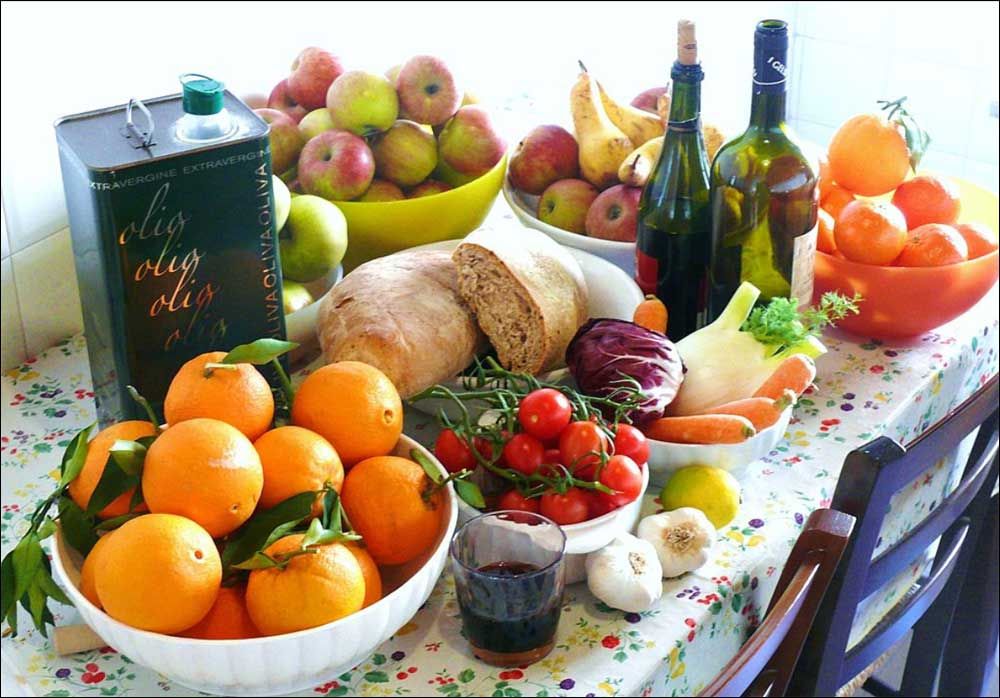 (G.steph.rocket CC BY-SA (https://creativecommons.org/licenses/by-sa/4.0)
One of my New Year's resolutions was to treat myself better. More sleep, some exercise, cut down on the beer and especially start eating better. Most Americans don't. You just have to take a visit to the grocery store sometimes to see how obesity is an epidemic in this country. And the reason is in those grocery carts, piled high with processed foods and sugar laden snacks.
If it was just to have better health and longer life, eating better would be wise but in the future we face, that of economic contraction, energy insecurity and resource depletion, those of us in the 99%, those of us who are not rich enough to ignore problems as civilization slowly collapses, then we have to face the prospect that food is going to get harder and harder to get. Climate change is going to put pressures on those who grow food, especially Big Agriculture. The moderate weather and rain fall are already being disrupted. Periods of drought followed by excessive rain and flooding will mean less food grown and what does get grown will be less nutritious.
Science may help, there are already some genetically modified plant strains being developed which will grow better in higher CO2 levels we can expect by the end of the century. We can't count on science to come up with a magic bullet though, so we each must take steps ourselves, to manage our diet and grow some of our own food.
Lets look at three things we can do.
---
The "WHAT" of Eating Better
Typically the advice you get when you want to eat better, is eat more fruits and vegetables, less meat and processed foods. It gets hard though to tell what vegetables are better, or what meats are worse. Then you have all the other healthy eating advice. Go Paleo, or eat Keto. Cut out carbs or choose gluten free. Don't forget vegan or non vegan either. All of these and others often address a few specific concerns, like losing weight. Or problems you are having with your health. Unfortunately, such tailored eating diets often severely restrict your eating sources. This may not be doable in a environment of limited food options.
(If you are having specific issues with your health, see a qualified nutritionist or your doctor.)
One "diet" that seems to consistently get high marks with nutritionists is the "Mediterranean Diet".
Not technically a "diet" as is commonly termed, diets often being used to just to lose weight, the Mediterranean Diet is based on the food and cooking styles popular with people living in Southern Europe like Greece and Italy. Researchers have noticed that those people tended to be much healthier than Americans and be subject to much lower rates of lifestyle illnesses like diabetes and heart diseases. Since medical care will also be less available in the future for most of us, living with less illnesses that require expensive drugs or hospital interventions is going to be doubly advantageous.
Being more a dietary style than a diet, the Mediterranean Diet allows you to modify as needed for personal preference and the availability of resources.
A good introduction of the foods allowed and those discouraged is here: Heathline.com - Mediterranean Diet 101
Basically eat less processed foods and more cooked vegetables, especially steamed and not fried in processed oils like canola or soy bean. Eat whole grains and nuts, though I'd skip almonds given the environmental damage large scale almond farming is doing. Skip the butter on your bread for olive oil (perhaps with some herbs). Salads are a good addition but skip the ranch dressing and go with an oil and vinegar dressing. Cut out added sugar in your food (surprising how much food has some added) and any foods with added salt. You'd be surprised how many foods have too much of both added to them. Chose the least processed option when you can.
I have a small personal food steamer which is amazing that I picked up at a yard sale. Hit the grocery store on the way home from work, for a variety of vegetables, enough for one or two meals. Bring them home, then pop them into it for 20-30 minutes while you clean up. Add some herbs and spices then dig in. Steaming is a great way to keep the nutrients and save on oily clean up.
Skip sugary drinks like soda or fruit flavored juices which are heavy in added fructose corn syrup, drink water though pick up a reusable container and not one use plastic. I personally keep a pitcher in my refrigerator of cold water with a bit of lemon juice and the non-sugar sweetener Stevia which is natural and not processed. Ditch anything labeled "diet" or "low-fat". Alcohol in moderation, with a glass of red wine with your meal if you like. Same with coffee and tea, drink in moderation.
Importantly less red meat, more white meat like chicken or turkey. Fish and seafood twice a week if you can though I've cut back on my sushi given the over fishing of tuna being done. Where you can choose wild caught over farmed seafood, which has added antibiotics. If you want, have a steak with friends sometimes but at a minimum.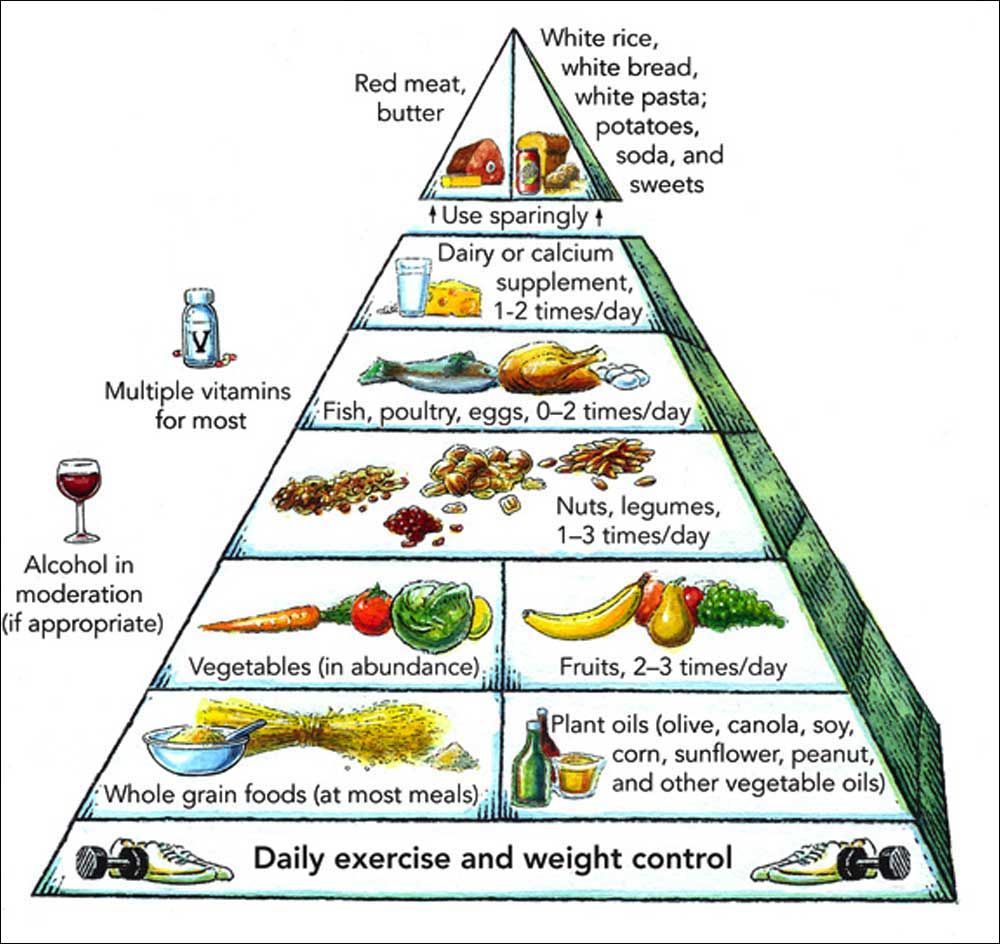 (Harvard's food pyramid [Public domain])
Some Additional Reading:
A review of some of the medical studies: "5 Studies on The Mediterranean Diet - Does it Really Work?"
Be aware that lower quality ingredients may not provide the same benefits: Not All Mediterranean Diets Are Created Equal
(Look at the Green Wizard discussion on honey HERE to see how products can be diluted. Watch what you buy and where it comes from.)
Also be aware of the nutritional difference of increasing vegetable proteins and cutting back on animal proteins has. The "Flexitarian Diet" link next has some information as well as this article: Animal vs Plant Protein - What's the Difference?
A similar healthy eating life style to check out: "The Flexitarian Diet: A Detailed Beginner's Guide"
A diet lifestyle which lowers fat in your body may also help with health problems like Type 2 Diabetes: "Study reveals what causes type 2 diabetes and how to reverse it"
---
The "HOW" of Eating Wisely
John Michael Greer has often spoken of the benefits of daily meditation in both physical health and spiritual clarity. Mindful meditation, that is being present in the moment, is a good way to train yourself to be aware of your situation, your environment and your own head space, though its a hard habit to get into.
Being "mindful" isn't something we as humans are wired for. Instead we let millions of years of evolutionary experiences which sit in our subconscious walk our meat bodies through the day, while the tiny bit of our prefrontal cortex which actually reasons lives in a sea of background clutter. Bits of music we have heard, worries about this or that, bright shiny objects in our view, aimless chatter with those around us, all distracts us from what we are actually doing.
Mindful meditation tries to bring you back to the present moment, usually by consciously being aware of our own breathing. You learn to use that breathing to clear your mind. Now the mind will wander and that's ok. Its the ability to realize your mind is wandering and to choose to return to the present moment. Your mind will do everything it can to distract you, think of the bills you need to pay, the argument you had with a partner, the fact you need new tires on your car. Each time this happens, realize it and use your breathing to recenter yourself in the present. Don't judge or worry too much if you can't seem to stay focused. When a stray though intrudes, recognize it and think again on your breathing. The more and more times you do this, the easier it will get. From your short mediation, you will find you are able to take that experience into your every day life.
Its the same way with eating.
How often have you caught yourself plopped down before the television or the computer, with a half eaten meal in your hand and no recollection of what any of it tasted like? Or coming unexpectedly to the bottom of a bag of chips, when you meant to just eat a few?
When I say "eat mindfully", I mean to be wholly in the present of the act of eating. Eat slowly, taking the time to savor the flavors and textures of the food in your mouth. Feel the way it rolls across your tongue. Chew it and feel the way it turns from tender bits of food to a soft mush. Swallow and feel it as it goes down. Just take a moment to enjoy the act of eating. When ever your mind wanders, come back to the taste of the food.
This is best done at first alone. Trying to mindfully eat with another person is difficult. People want to talk. So too is it hard to do at a restaurant out in public, especially if its crowded.
One helpful trick I sometimes use, that is to picture where the food comes from. As you take a bite of say a potato, imagine that potato growing in the ground. See it putting out leaves and putting down roots. Often, just the mental image of that will cause me to slow down, to consciously savor the taste of that potato. So too with the other elements of your meal.
I also as a spiritual act, will thanks that potato from its sacrifice, give up its place on the Earth to feed me.
As you practice mindful eating, it will help you re-center and learn to experience each moment of your Life.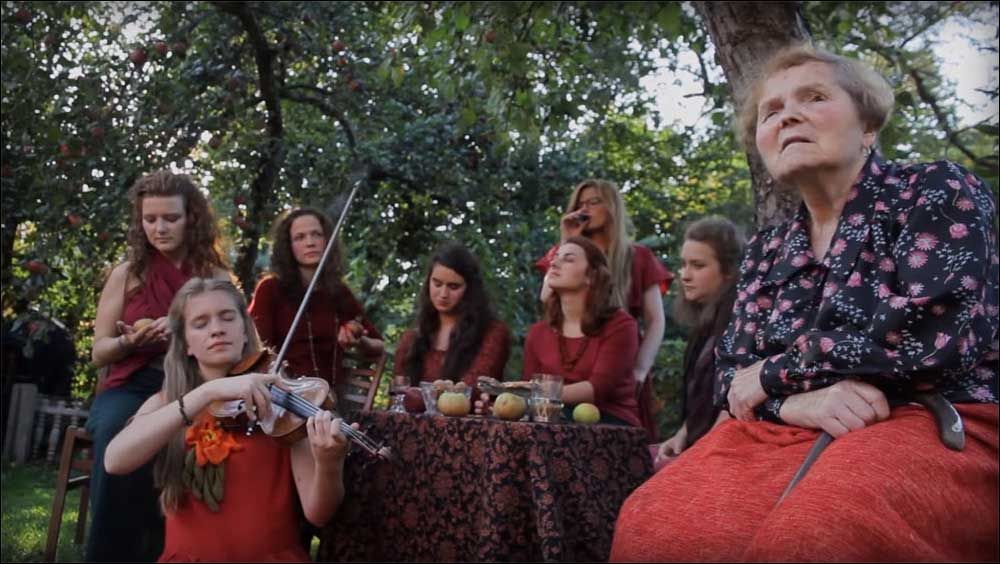 (2015 CC Laboratorium Pieśni - Koło mego ogródecka )
Some Additional Reading:
"8 steps to mindful eating", Harvard Medical School.
"Mindful Eating: The Art of Presence While You Eat", American Diabetes Association
"6 Ways to Practice Mindful Eating", Informal mindfulness practices for those of us who don't have five minutes to contemplate a raisin.
---
The "When" of Eating Healthy
I am guilt as most of us are, of giving into the minor cravings for something, anything to stuff in my mouth. The prevalence of snack food in our pantries, in the aisles of our grocery stores and on the side of the road on the way home has conditioned us to give in at the slightest promptings. Sit through an hour of commercial television and count how many food related commercials you see. Its frightening how they flood the airwaves especially at the key hours around the evening meal.
Just as we aren't designed to run all the time, we aren't made to constantly eat either. Any activity comes with an energy requirement, and eating is among them. Filling our stomach with food, especially the poorly nutritious processed foods that manufactured food companies push means our bodies must divert energy and effort in digesting them, from other tasks.
One method to help us be more healthy that is gaining interest and adoption is "intermittent fasting".
This practice is just as it sounds, you simply don't eat for a specific amount of time each day. Which can be a lot harder than it sounds, lol. "Just Say No", is hard to say Yes to.
Alternating between fasting and eating triggers your body's cells to cells use up their fuel stores and convert fat to energy, instead of relying on the incoming food you've just eaten. Just as you should eat from your emergency pantry rather than always from fat food places, having your cells eat from your internal fat stores improves your health. Fatty deposits in your body, once established and then ignored will cause you problems beyond just a few extra pounds.
There are ways to help you to get into this healthy habit. One is "sleeping on it". When you think about it, the time you are in bed, is time you aren't eating. Pair that up with stopping any food consumption after the evening meal, to get a few more hours of fasting in. Slowly increase the wait period by moving your dinner meal back into the late afternoon, rather than early evening will help increase the time you fast.
I use an alternative, skipping breakfast before work. There's no real reason we must have a huge meal first thing in the morning, other than social habit. Instead of grabbing a big bowl of sugary cereal as you read the morning news, grab a glass of water instead. Break your fast at lunch, preferably with something healthy you made the night before. Don't give in to morning snacks or go out with co-workers to a convenient nearby fast food either. Skipping breakfast can extend your fasting time out to the recommended 12-14 hours.
Doing this and you'll find like I have that first you seem to have more energy, and second, it becomes easier and easier to refuse those sudden cravings.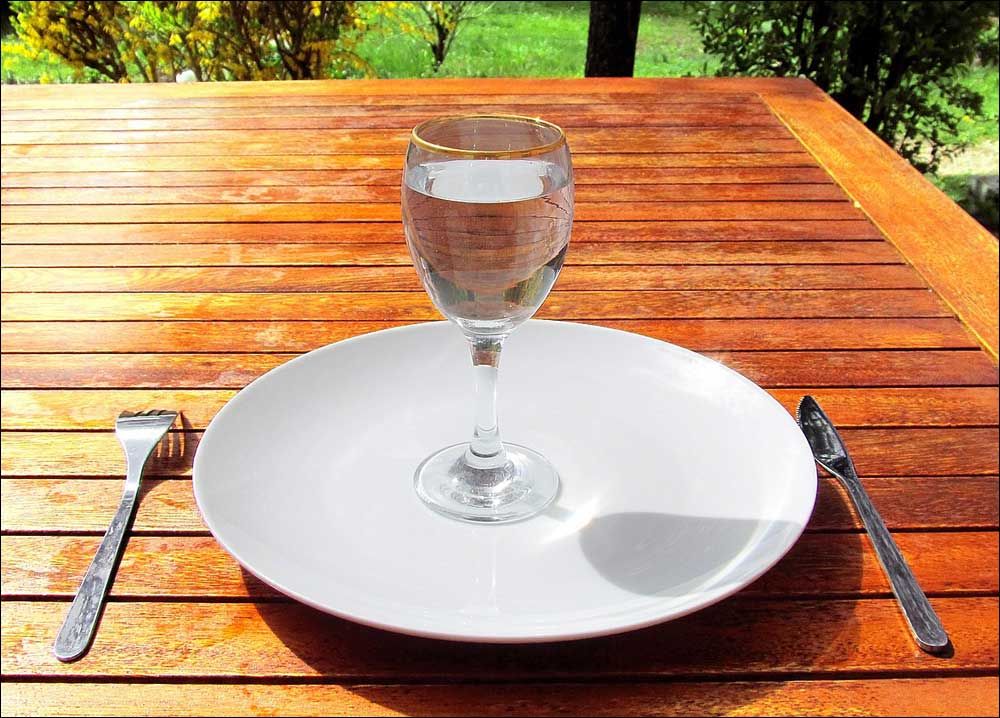 Jean Fortunet [CC BY (https://creativecommons.org/licenses/by/1.0)]
Some Additional Reading:
"Exactly How Nutritionists Beat Sweet and Salty Cravings"
"Eating in a 6-hour window and fasting for 18 hours might help you live longer"
In Conclusion
The recent Pandemic has shown each of us how easy it is to let ourselves go. Being fat and sedate is not only bad for our health but it will make us ill prepared for the Long Descent. Take control of your eating habits now, while its easier. Don't wait until you are faced with real want and actual scarcity.
You'll thank yourself then.