Growing Plants from Seed: What are Your Options?
Posted on:

23 March 2022

By:

pygmycory
There are many reasons to grow plants from seed. The primary ones are lower prices, a wider choice of varieties than buying transplants, and more resilience to supply disruptions. It is also useful if you are growing a fall garden, if you want to save your own seed, or if you want to get ambitious and try breeding your own varieties.

Photo by pygmycory Tomato Seedling
I have been growing plants from seed every year since 2011. I also grew up around and involved with various family members' gardening habits. I know some of you have been growing plants from seed longer than I have been alive, and will know stuff I don't, or have things you want to add. Please add your knowledge and experience in the comments: they are valued!
The main ways to start seeds are direct sowing, starting seeds indoors in pots or trays, or chitting them and then transferring them outdoors. No matter what method you choose, don't forget to water, make sure the seedlings have plenty of light and make sure you feed them.
Direct Sowing
Direct sowing is the oldest, simplest method. You can't get any simpler. Take a seed, put it in the ground, water it, and watch it grow. In practice, it is a little more complicated than this.
You need to plant at the right time of year for your location and what you're trying to grow. To determine what you should be planted when, as well as if you should be planting that crop at all, you will need your first and last frost dates.
Your last frost date is the average date of the last frost in spring, and the first frost date is the date of the average first frost in the fall. The time between them is your growing season. Do not direct sow warm-season crops that need a longer growing season than the time between your first and last frost dates. It's a recipe for disappointment. Different varieties of the same crop often have different times to maturity. Pick one that can produce whatever you're harvesting before the first frost.
You can often find guides to what to plant when in your region, and these make a handy reference. I use the one in the West Coast Seeds Gardening Guide.
Trying to grow warm-season crops in short-season areas is one of the main reasons people start seeds indoors rather than direct seeding. In cases where the crop takes longer to grow than your growing season, it's often the only way to grow that crop.
Starting Seeds Indoors
When you mention seed-starting, this is what people most often think of. Indoor seed growing ranges from simple and inexpensive to much more complex, with a significant start-up cost. The simplest version involves planting your seeds in pots of potting soil or seed starting mix and setting them on a sunny windowsill to grow.
This can work, but because most of us are starting seeds in late winter there often isn't enough light to make the seedlings grow well, and they end up pale and leggy. As someone in coastal BC, which has a long growing season but short winter days, I have to do more if I want decent tomato transplants.
What I do is this: I pot up seeds in seed-starting trays, stick them in clear plastic bags or ex-salad containers, and set them on top of the refrigerator for a bit of extra heat to help them sprout. For things like basil that really need bottom heat, you can figure out what the most steadily-warm place in the house is, or buy a heat mat specially designed for starting seeds.
Once the first seeds have sprouted, I move the seed tray to the west-facing windowsill in the kitchen. I have a single fluorescent grow light set up there, which I place beneath. You want the grow light ideally an inch or two above the current height of your tallest plant. You don't want any of your seedlings touching the fluorescent light because it will scorch their leaves, but the further away it is, the less light they'll get. Seedlings grow, which means you need to move the lights higher as they get taller.
LEDs are more energy-efficient than fluorescent, and if I were buying lighting today I would probably use LEDs. I use LEDs to light my planted vivariums and fish tank. There are LEDs available now that are specifically aimed at growing plants, but they're expensive. I use natural daylight bulbs on the vivaria, which are inexpensive to buy and run. They're not perfect for plant growth, but they work. If your seedlings get some natural light, they will be just fine with inexpensive LED lights like this. If you are growing seedlings for sale in an otherwise dark area, you might want to invest in better lighting.
Adjusting the height of the light is easy if you hang the lights from something with a chain and an S-hook that can be put through any link of the chain. Being a jewelry maker and preferring not to buy anything I don't have to, I use old necklace chains I had handy. It's a bit of a pain, but it works.

Photo by pygmycory. Pic of my seed-starting setup in the windowsill
One of my parents, who starts a lot of seeds every year and often sells seedlings and microgreens, builds A-frame seedling starting setups with multiple grow lights. They have a couple of them in the basement. They use heat mats to get things like tomatoes and basil off to a good start. This does use electricity and requires some space, but you can produce A LOT of seedlings this way. You can also buy many seed-starting setups that will do this job, but the homemade version is a lot cheaper. Here's a link to free plans and a parts list, with permission of my parent: GardenHomesteading Light Stand Plans PDF
They also have more information on indoor seed starting here: GardenHomesteading The Best Way To Start Seeds for more detail and a different perspective than I take in in this article.
A-frame seed-starting setups like this have the potential for a small business growing microgreens or transplants for sale if you are willing to devote enough space, time, and money for equipment and electricity to the project.
When to start seeds depends on what you're growing, and your growing season. Find out when x crop can be transplanted out safely in your area. You want your seedlings grown to transplant size at about that time. You don't want them ready earlier, or they either end up rootbound and won't grow as well, or you have to transplant them to a bigger pot to keep that from happening. That's an extra hassle, and more pots and potting soil. And finding space for many gallon pots of tomatoes under a grow light setup designed for tiny seedlings can be downright impossible.
Eventually, you will want to plant the seedlings outside. To do this, you need to harden them off first. This means letting the plants get used to the weather outside a bit gradually, rather than all at once. If you just transplant seedlings directly outdoors, it shocks their systems. They aren't used to being rained on, blown about, baked by the sun, or cold overnight. Being exposed to too many of these things all of a sudden can kill them. More often, it sets back their development by a couple of weeks until they get over the shock. Fortunately, it's avoidable.
To harden off seedlings, take them outside for a couple of hours the first day, preferably on a day/time of day without extreme weather. Then take them back inside. Do it again the next day, but for longer. Then leave them outside all day, but take them in at night. Then leave them out full time, and after a day or two, transplant them. Hardening off takes a bit of your time, but it makes a huge difference to how well your transplants do once they're in the ground.
Winter Sowing and Greenhouses
Winter sowing is the technique that involves taking seeds and planting them in milk jugs in January, Then leaving the jugs in a shady location until they start sprouting at the appropriate time in spring. This is the first year I've done it, so I'm a bit reluctant to give thumbs up or down yet, but a lot of people swear by it as a way to get a head start on spring. And my spinach is doing brilliantly...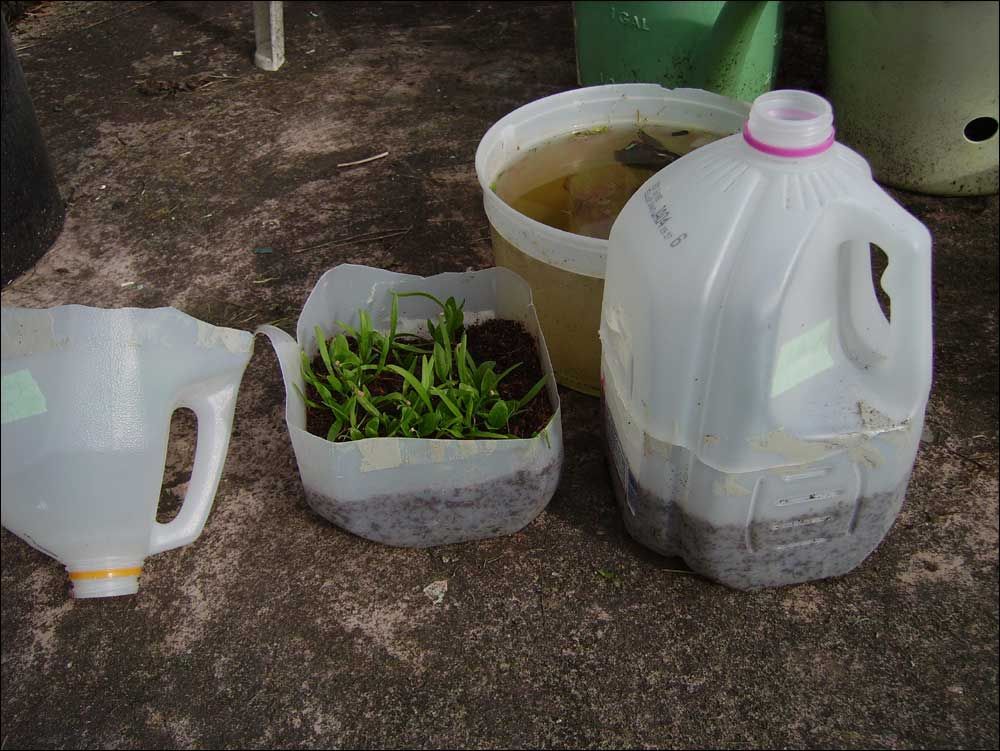 Photo by pygmycory. Spinach and milk jug greenhouse
I would suggest leaving the milk jugs filled with soil and planting seeds in a shady spot during the worst of the winter, though. I didn't have mine in a completely shaded area, and mine started sprouting in a warm spell about Feb 11th, which is very early indeed round here, and we've had very hard frosts since, including one where I took them indoors overnight rather than have all my young seedlings and their milk jug containers freeze solid.
You can also sow seeds in a greenhouse, hoop house, or cold frame if you have one. Depending on the size and type of greenhouse you have and how you use it, you can direct sow into garden beds inside the greenhouse, or start in flats and pots to transplant later to where the plant will actually be growing. Growing inside a greenhouse does extend the growing season, by a lot if heated, by less if unheated. Greenhouse growing is an entire subject unto itself, and I don't have the skill or experience to do it justice, so I'll leave that discussion for someone else.
Chitting Seeds
To chit a seed means to soak a seed, then keep it moist under ideal conditions until it germinates. When you see a root poking out of the seed, it is ready for planting. This is more work than direct sowing and more dependent on the weather than starting seeds indoors, but it is something I do regularly.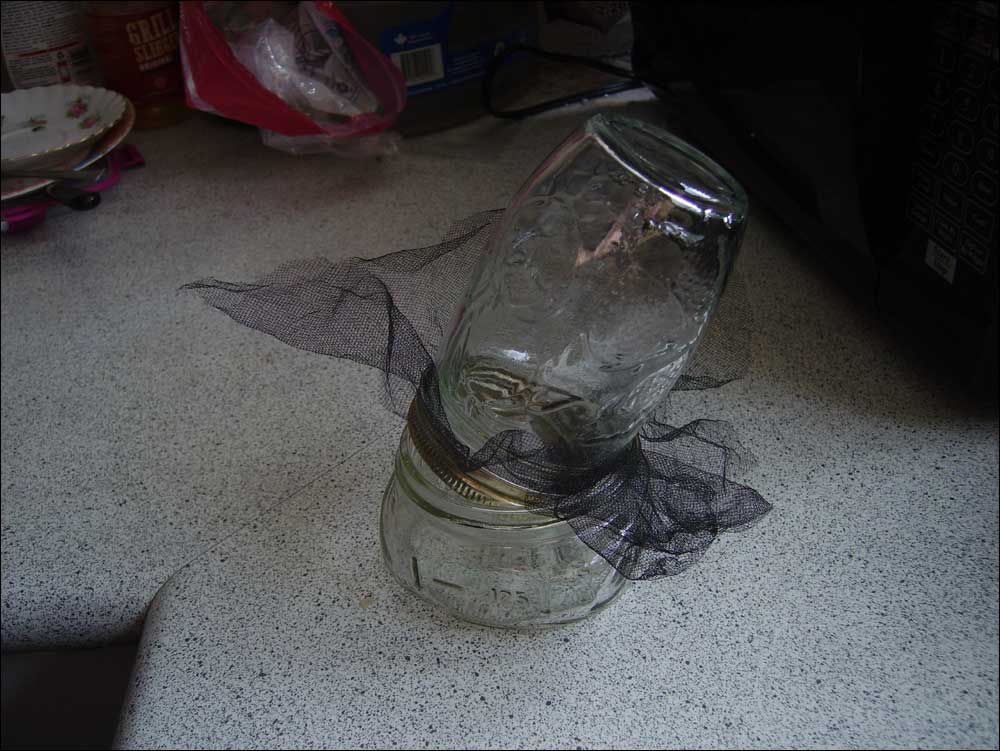 Photo by pygmycory. Spinach seed being chitted
Why chit seeds? Because you can get much better germination in awkward weather conditions, such as early plantings, or planting in midsummer for fall crops. It can be really hard to get peas to sprout at the end of July. But if I chit them, and then take them outside and plant them once they've started germinating, I can be confident they'll come up. Chitting seeds also uses less water than watering them in-ground, which can be useful if it's a drought year and you need to conserve water.
Chitting also helps peas get started very early in the season. I find they are less likely to get destroyed by slugs since they don't go in the ground until they've started growing. However, this isn't foolproof if you have bad luck with the weather after they go in. I had to replant my peas this year since I lost most of my first crop to an abnormally hard frost just after I planted them.
How to chit seeds: there are a couple of methods.
Method one: take a paper towel, and put it in a plastic Ziploc bag. Wet the towel until it is thoroughly moist. Add your seeds, close them up, and put them somewhere warm. Check once a day. When germination is started on most seeds, but before roots begin tangling, plant the seeds. Be careful not to break off the root.
Method two: treat them like sprouting seeds for eating. Take a jar, a rubber band, a piece of netting, and a saucer or another jar. Soak the seeds in water for most of a day, then cover the jar with the netting and rubber band, pour out the soaking water, and rinse the seeds. Then place the jar containing the seeds leaning up against a wall, on the saucer or other jar.
Method one is simpler and less time-consuming than method two and uses less water, but method two doesn't require a paper towel, forces you to pay attention to your chitted seeds so they don't get left too long, and is less prone to mold. I grow sprouts to eat, so dealing with an extra jar or two of chitted seeds at the same time is easy for me.
In Conclusion:
There are several major ways and a lot of variations in how people start their seeds. You'll likely find that you end up mixing and matching depending on what you're growing and whether it's early or late sowing of that crop. I chit fall peas and early-season spring peas, but if I'm doing a later planting of spring peas I direct sow them. I don't start peas indoors because they dislike being transplanted. I always start tomato seedlings indoors because they take a long time to grow compared to my growing season for them – well, except a couple of volunteers last year that direct sowed themselves and managed to produce fruit anyway. Experiment with the different methods to find what works for you.