Posted on:

29 July 2021

By:

David Trammel
With our new members and activity recently I've been meaning to restart the main page blog. I had several subjects prepped and half written when this came across my Faceplant timeline this weekend.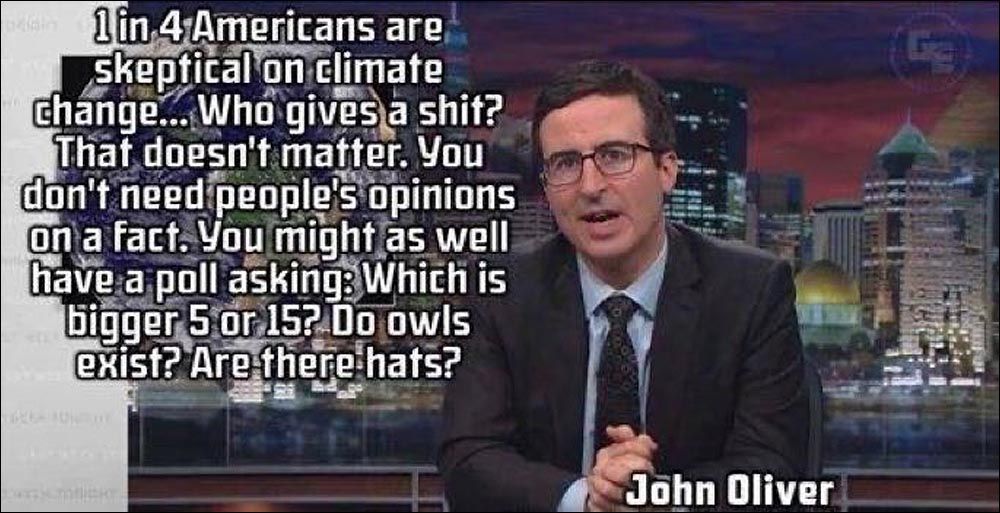 "1 in 4 Americans are skeptical on climate change... Who gives a shit? That doesn't matter. You don't need people's opinions on a fact. You might as well have a poll asking: Which is bigger 5 or 15? Do owls exist? Are there hats?
I love John Oliver. Leave it to a Brit, to tell you that you are an idiot and make you laugh at it.
Unfortunately his sentiment, which is echoed by too many people on the Left and in progressive circles, especially in the field of climate change, is all to common. "If the Deplorable people won't do the right thing, then we need to force them to do it!"
Funny how in the next breath, many will be shouting about how those same Deplorables are embracing fascism and authoritarianism.
Why should we care what a quarter of the American population thinks?